The role of project management skills in everyday work is difficult to underestimate. According to surveys, 31% of projects are canceled before finished. That's why to complete the project on time, on budget and on scope all people involved need to understand its critical success factors as well as how they as individuals and team can contribute to achieving project objectives.
The Event was organized jointly with member company ASCENDIS. Ascendis, consultancy and training company, shared with participants the recipe of a project success.
Session was conducted in the form of project simulation with the ability to prepare, inspire, commit and qualify project members to contribute fully to future projects with a deeper understanding of the critical success factors of a project. It was the ideal way to warm up a project team and bring out the best in each participant!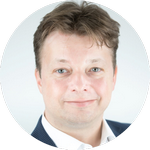 Speaker:
Marius Opris, Partner, Ascendis. Marius has over seventeen years of business experience in entrepreneurship, multinational companies and consulting. Marius started his training activity in 2004 and was involved in over 15 organizational transformation projects in Romania. During this time, Mr. Opris has held training programs for over 10,000 participants. He has extensive experience as a consultant in the telecommunications, IT&C, energy, pharmaceutics, automotive and retail industries.
Chamber Friday University is a series of half-day workshops that aims to give an overview and focus on various topics which may help you in your professional and personal development. These highly interactive workshops use a wide range of formats including video, demonstrations, lectures, discussions and simulations.
EDUCATIONAL PARTNER